Timing Pulleys & Belts => Timing Belts => Metric Timing Belts
Metric Timing Belts
Metric belts have been around for many years and are most common in Europe. The use a poly-urethane material instead of rubber and have a steel cord for extra strength.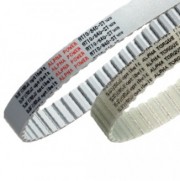 Metric Belting
The Optibelt ALPHA is extremely abrasion-resistant, oil resistance is a standard feature as well as some resistance to acids and alkaline solutions. Low stretch steel tension cords with high reverse bending strength are used.
The powerful Optibelt ALPHA POWER timing belts are the result of consistent further developments. The versatile experiences with the ALPHA standard timing belts have been implemented in this belt generation. With new, more resistant and more durable polyurethane compounds, this generation possesses an increase in power of up to 30% in comparison with the previous standard belts. The Optibelt ALPHA POWER permits more compact drive solutions that help cut costs when purchasing new belts and pulleys. The optimized interplay of the polyurethane and steel cord components guarantees the Optibelt ALPHA POWER an extremely economical solution for a wide range of applications.
Brand:- Optibelt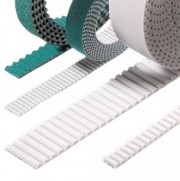 Long Length Belting
Long Length Belting is available in both rubber and polyurethane materials to suit Classical, HTD and Metric T & AT tooth profiles. We stock a large range of this product on the shelf in a variety of widths ready to go.
Brand:- Optibelt