Couplings => Rubber & Urethane Couplings => Nylon Gear Coupling
Nylon Gear Coupling
This type of coupling is available from two different suppliers. We stock the most common designs on the shelf ready for sale.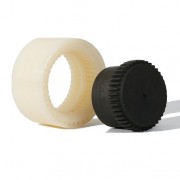 Nylon Gear Coupling - Sitex
The Sitex coupling is a gear coupling that uses two steel hubs and a superpolyamide resin sleeve. The combination of steel hubs with polyamide sleeve makes the coupling maintenance and lubrication free. Sitex couplings match the industry standard so they are interchangeable with many other brands.
Brand:- SIT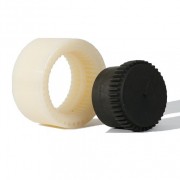 Nyflex & Mite - Lovejoy
The Lovejoy Nyflex & Mite couplings are a Compact Light weight coupling that is commonly use on Hydraulic pumps. It uses two steel gear hubs and a nylon sleeve. Unlike all steel gear couplings no lubrication is required between the hubs and sleeve. These couplings are made in the U.S. and imported against order only.
Brand:- Lovejoy