Couplings => Zero Backlash Couplings => Beam
Beam
The Beam coupling is a great light weight low inertia zero backlash coupling ideal for applications where spot-on positioning is required. We stock the Ruland range of Beam couplings.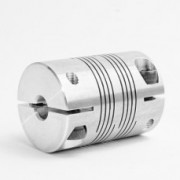 Beam Couplings
Flexbeam™ zero backlash flexible shaft couplings are available with inch and metric bores and outside diameters ranging from 3/8" (6mm) to 1-1/2" (38mm). The Flexbeam series are machined from a single piece of aluminium or stainless steel and feature multiple spiral cuts.
Flexbeam-3™ couplings are ideal for light duty power transmission applications such as coupling a servo motor to a lead screw in a motion control system. The couplings feature larger body sizes and stronger beams to provide high torque capacity and very low windup, without sacrificing misalignment capabilities.
The Flexbeam-2™ couplings are designed specifically for precision applications, especially those that use delicate components such as encoders and tachometers. The small bearings on these components make low radial forces essential to longevity and continued high performance. The Flexbeam-2™ provides extra flexibility to yield reduced bearing loads and shorter industry standard lengths to fit in confined spaces and allow for easy retrofits in existing equipment.
Brand:- Ruland