Chain & Sprockets => Chain => Wear Resistant Chain
Wear Resistant Chain
Ware resistant chains include X-Ring Chain, Super Hi*Power chain and Sintered Bush Chain. These chains are available in a verity of sizes in both British and American Chain as well as Conveyor series chains.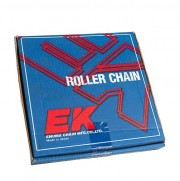 O-Ring & X-Ring Chain
Grease is sealed with X-Rings between pin and bushing. The X-Ring design offers greater protection than the previous O-Ring design. It can be used in a very wide range of applications from low speed to high speed and from light duty to heavy duty, ensuring longer life. Furthermore, it is durable to some extent even at high temperature, and a chain adopting heat resistant X-Rings has actually been used in a 200ºC oven. Since the pin length becomes longer by two X-rings, refer to the catalogue for dimensions.
B.S. British Standard
A.S.A. American Standard
08BX

1/2"

40X

1/2"

10BX

5/8"

50X

5/8"

12BX

3/4"

60X

3/4"

16BX

1"

80XD

1"

100LD

1 1/4"
520L O-Ring chain is also available, but it is for industrial use only.
X-Ring has progressively replaced O-Ring Chain due to greater wear resistance.
Brand:- Daido & EK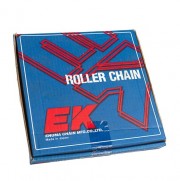 Super Hi*Power Chain

D.I.D HI*PWR roller chain is designed to provide higher tensile strength and better ability to withstand impact loading. The chain is recommended for slow to moderate speed drive and heavy loading conditions, but can also be used for high speed. HI*PWR chain has thicker side plates and hardened through pins.
A.S.A. American
Standard

60HK-1

3/4"

80HK-1

1"

100HK-1

1 1/4"

120HK-1

1 1/2"

140HK-1

1 3/4"

160HK-1

2"
Brand:- Daido & EK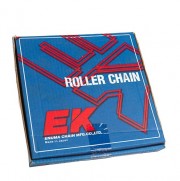 Sintered Bush Chain

'UR' Chain
Sintered bushing roller chain uses bushings made of sintering alloy steel powder. The porous spaces of the sintered bushings are impregnated with oil before hand, to increase the life of the chain. However, Sintered bushing roller chains are for low speed and light duty applications.
A.S.A. American
Standard

Conveyor Series
Standard Roller

Conveyor Series
Large Roller

40UR

1/2"

C2040UR

1"

C2042UR

1"

50UR

5/8"

C2050UR

1 1/4"

C2052UR

1 1/4"

60UR

3/4"

C2060HUR

1 1/2"

C2062HUR

1 1/2"

80UR

1"

C2080HUR

2"

C2082HUR

2"
Brand:- Daido & EK