Workshop Services
Our in-house machine shop specializes in fast turnaround time for short-run jobs. If your plant is down and you need a modification to a stock part or you need a run of made to order parts for production, look to Naismith Engineering to meet your needs.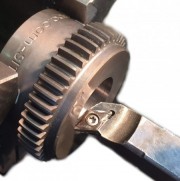 Naismith Engineering can bore and key our full range of pulleys, sprockets and couplings to suit your applications. We have an extensive range of broach sets to accommodate a variety of standard and non-standard keyways. Bore sizes from as small as 6mm up to 230mm with a 50mm key are possible. We can bore to very close tolerances for bearings, and supply with circlip groves if needed.
We can taper turn to suit standard Taper Lock bushes and QD bushes. Our CNC drilling facility enables us to provide very accurate drilled and tapped holes on a nominated PCD.
Our welding workshop can weld in ex-stock blank bosses and taper lock Weld-On hubs.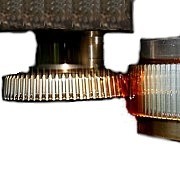 Naismith Engineering has an extensive range of gear cutters to manufacture special timing pulleys & sprockets for the common sizes used in the Australian market. We can make them in a variety of materials including aluminium, steel, cast iron, bronze, acetyl and stainless steel.
We manufacture: •
Classical timing pulleys from XL to XXH
HTD pulleys from 3M to 14M
Metric pulleys in T and AT profiles
Poly chain / GTR pulleys
British Standard Sprockets up to 1 inch
American Standard Sprockets up to 1 inch
We also supply and fit steel and stainless steel flanges to suit these pulleys, including bolt on flanges if required.
Turnaround time for pulley or sprocket production is 1-2 weeks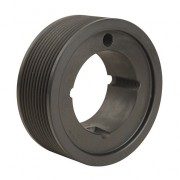 Poly-V or Micro V pulleys are now quite common in Australia. Naismith Engineering can make special 'J' and 'L' section Poly-V Pulleys from 20mm up to 400mm in aluminium and cast iron.
We can also make standard Vee Pulleys for SPA, SPB, SPC & SPZ up to 600mm in aluminium and cast iron.
Turnaround time for pulley production is 1-2 weeks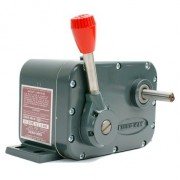 Naismith Engineering is an authorised repairer for Zero-Max variable speed drives in Australia. We can fully recondition and replace all the normal wearing parts, in the full range of Zero-Max units. For a Zero-Max which has been damaged due to overload or misuse, but the external case is okay, we can replace all the internal parts for a much cheaper price than a new unit.
Turnaround time on most repairs is one week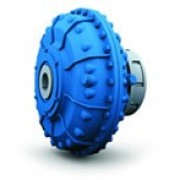 Our facility has the capability to refurbish and recondition the full range of Fluidomat fluid couplings. This includes replacement of all bearings and seals, and retesting to Fluidomat specifications.
Turnaround time on most repairs is one week.