Introducing: Delta Chain Carbon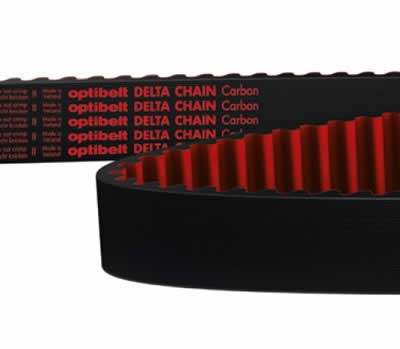 Naismith Engineering are pleased to announce the arrival in Australia of the new Delta Chain belts. These belts are capable of transmitting up to 100% more power than other High Performance Timing Belts.
The Optibelt Delta Chain Carbon was designed for high torques and delivers high performance even in extreme use and with high loads. With its carbon cord, it is the ideal alternative to drives with roller chains. These belts are designed to run with the GTR Pulleys that we stock as well as the Poly Chain pulleys from Gates.
Some of the major features of this new belt include:-
Best Temperature Resistance thanks to the use of cast polyurethane – Operating temperatures of approximately -30°C to +80°C.
Unrivalled Impact Strength due to a combination of hard polyurethane and hard-wearing carbon fibres.
Optimised Tooth Shape for smooth tooth meshing and uniform distribution of force across all the tooth profiles ZRS DC, CTD and PC.
High Level of Reliability in the event of any adverse effects resulting from oil, chemicals or ozone, for example.
A range of belts are now available in Australia with more sizes being introduces later in the year. If you have a high powered drive in need of a high performance belt, or if you are looking for an alternative to the Poly Chain belt, talk to us about the Optibelt Delta Chain Carbon belts.

Back to News