Couplings => Steel Couplings => Delta Flex Couplings
Delta Flex Couplings
The Delta Flex coupling is truly a one of a kind type of coupling. It is capable of high temperatures and high misalignment but requires no lubrication.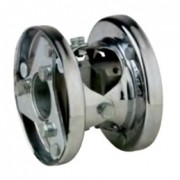 Delta Flex
The unique design, misalignment capability and simple installation, make Deltaflex easily adaptable to special applications. This is an all metal coupling and is also available in stainless steel. High misalignment capability means that there is less reactionary load on the rest of the machine.
Other features and benefits include:
Operates smoothly when misaligned.

No lubrication.

No backlash.

Many standard coupling configurations for application versatility.
Brand:- Lovejoy