Couplings => Zero Backlash Couplings => Jaw
Jaw
Jaw couplings are the most common type of coupling. With some minor changes during the manufacturing process and the addition of a specialized element they can be made in to a Zero Backlash coupling. We offer jaw type zero backlash couplings from two suppliers SIT and Ruland.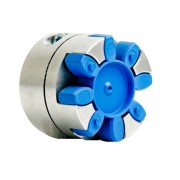 Trasco ES
The main design function of the TRASCO® ES coupling is to transmit motion while absorbing misalignments and vibrations, with absolute precision and without any backlash. A wide range of element including Shore hardness of 64D, 92A & 98A are available across the range. Elements are rated at temperatures up to 120 °C. Most hubs are aluminum and are true No Backlash. They are available in Standard or clamp type.
The very compact design makes it a very functional coupling ideal for positioning or feedback application.
Brand:- SIT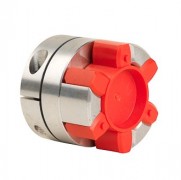 Ruland
Jawflex™ zero backlash jaw couplings are three piece couplings comprised of two hubs and an elastic element. The spider, made of an advanced polyurethane material, provides dampening of impulse loads, minimizing shock to the motor and other sensitive equipment. Available in two shore hardness's, these spiders allow the user to customize the jaw coupling's performance. Selecting a soft spider will give the Jawflex™ the greatest dampening characteristics, while a hard spider will provide the greatest torsional stiffness and strength. All spiders are press fit onto a curved jaw profile, assuring zero backlash operation.
Brand:- Ruland