Ruland Shaft Collars
Quick clamping shaft collars
Quick clamping shaft collars from Ruland are designed to deliver speed and flexibility while reducing down time. They have an integral handle that sits flush with the outside diameter when fully installed and can be actuated without tools, allowing for quick installation and adjustments. Quick clamps are ideal for light duty rotating and stationary applications in industries such as printing, packaging, semiconductor, and medical where frequent change outs of items including media, guide rails or other setup fixturing is required.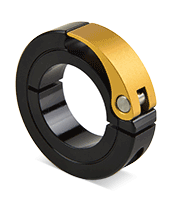 The design features a tension-adjustment screw which makes the collar compatible to wide shaft tolerances and allows for adjustments to axial holding power. Quick clamping collars are made from aluminium for light weight and low inertia. They have a standard black anodized finish and are supplied with stainless steel hardware.
Quick clamping shaft collars make installation as simple as sliding the collar into place and closing the handle by hand. When the collar needs to be removed or repositioned there is easy finger access to the handle allowing for rapid change outs. Quick clamp collars can be modified with mounting holes to allow them to face-mount other components to the shaft. Custom double wide versions are available by request for applications requiring a higher axial holding power.
Ruland offers quick clamping shaft collars with bore sizes from ¼" to 3" and 6mm to 75mm.
To download a technical data sheet, click here.
---

Double width shaft collars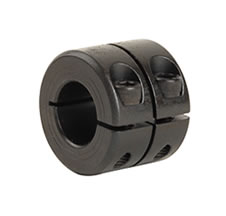 Ruland's double width collars are available in one and two piece clamp designs in steel and stainless steel. Clamp style collars wrap around the shaft, providing high torsional holding power without the shaft damage and fretting that occurs when set screw style collars are used. Two-piece clamp styles also allow for disassembly and maintenance without removal of other machine components and feature opposing hardware for a balanced design.
Ruland offers double wide shaft collars with bore sizes from 1/8" to 2" and 6mm to 25mm.
To download a technical data sheet, click here.
Back to News